Tag: stucco color
by admin on Jul.07, 2011, under Images, Stucco Series
There has been a lot of time spent studying stucco over the last 6 months. Who knew that making the choice to use stucco to replace exterior siding would prompt so many design decisions.
I knew I wanted a English cottage appearance but since my name isn't Hansel or Gretel and I'm not likely to do a thatched roof, I didn't want this:
Quaint as it is, it isn't really my style.
On the other hand, many stuccoed houses I saw ended up looking like commercial buildings or survival bunkers. What I wanted from stucco was a nice clean line and a little interesting texture – along with the added insulation from weather and noise.
I began studying what is known as "Cotswold" style. Close, but no cigar!
This style – along with its sister style Tudor, does not really go well with my one level house. Tudor looks great on large homes and commercial structures. Here is a photo I took of the Hotel Roanoke in Virginia. It is an impressive building, but all this trim color will make my little 1600 square-foot cottage look a little choppy and I will have trim to consider.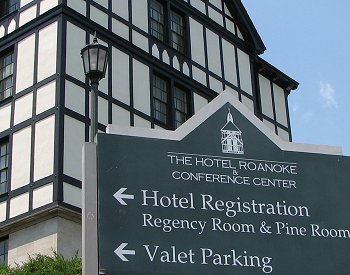 Hotel Roanoke, Virginia
I found the website Ontario Architecture which gave me some really good design ideas and an image fairly close to what I wanted.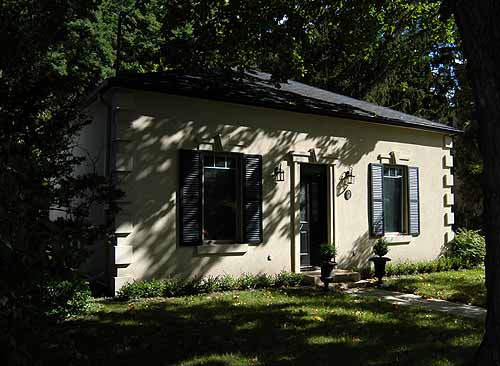 Clean lines, some nice opportunities for architectural design elements, and a natural-look color.
Color? Oh no. What about color? How do you get it, or not?
Back to The Mold Store I went since I'd already purchased powdered colorant for my paver stones. They had quite a few colors, but for my stuccoed walls I want a pearly-gray/white color. Early samples made from the very first stucco mix had the outcome a little too much brown tone for my taste.
Much of this color issue has to do with the sand portion of the stucco mix. Sand comes in a huge variety of shades and it all is certainly not white! Cement has less variety but from what I gather, true, Portland cement is the cleanest and brightest to work with.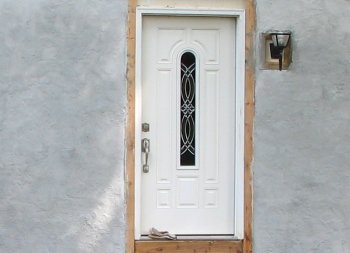 Many people do not worry about the base stucco since they plan on painting it. I'm trying to avoid this step. This is not an adobe home with the standard southwestern colors and I really don't want to have to paint this house after all this work.
A little further research found a whiter sand available nearby and the addition of white powder colorant to the finish mix got the stucco within the color range desired. This was still a little damp when the picture was taken.
Now, that it appeared the color was do-able, and I'm beginning to find ways to make a specific texture on the surface, how the heck do you make this stuff stay on the wall? That's a story for another day…
2 Comments
:colorants for pavers and stucco, DIY, home improvement, make your own paver stones, stucco, stucco color, stucco design and colors, stucco project at rose cottage, stucco series, The Mold Store
more...